About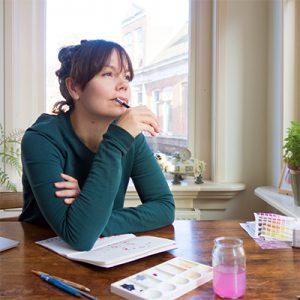 Hello! I'm Janneke, a Graphic Designer and Illustrator who combines those two skills into designing Surface Patterns.
I studied Audio Visual Design at the Willem de Kooning Academy in Rotterdam (graduated in 2008) after getting prepped at Sint Lucas, a Design College in Boxtel.
My designs mostly come together using drawings in ink or other handy crafts and I love to design with a certain medium in mind, an actual goal. My work is therefore most definitely applied.
I prefer cats (over dogs), love to spend time at a concert, watch Star Wars, enjoy the DIY mentality, pet my house plants and get excited about tugboats and space shuttles.
Just so you know!
Where the work gets done, my light and airy workspace in Groningen.
---
Admin info:
Chamber of Commerce: 73659002 (Groningen)
VAT ID: NL001462694B85